Upstate NY Fall Foliage Driving Tours
Prospect Mtn. Veteran Memorial Highway and 100 Mile View
From I-87 Exit 21, travel 1 mile north on Rt. 9, turn left at state highway entrance. Marvel at the 100 mile view from 2,021 ft. summit. The 5 1/2 mile highway leads to the parking lot. Along the way, you'll be able to experience breathtaking views of Vermont's Green Mts., New Hampshire's White Mts. and New York's Adirondack Mountains. From the parking lot, a "viewmobile" will take you the rest of the way to the summit. Be sure to check out the remains of the world's largest cable railroad and the fireplace of once-thriving Prospect Mountain Hotel.
Open Daily: May 27 - Oct 22, 9am - 5pm
Rates: $5/car, $30/bus
Driving Time: 10 minutes one way to
parking lot plus stops.
Rt. 28 Warrensburg to Indian Lake
I-87 Exit 23, north on Rt. 9 thru Warrensburg to jct. of Rts. 9 and 28. Head northwest on Rt. 28, over the Hudson River, through Wevertown and North Creek (Gore Mountain Ski Area), driving along the Hudson River to North River. Enjoy several overlooks and quaint villages. Continuing on Rt. 28, leave Warren County and drive on through Siamese Ponds Wilderness Region to picturesque Indian Lake and Lake Abanake. Turn left at sign to Sabael (Rt. 30). Drive a few miles to the state overlook rest area; where you can break and take in the beautiful view.
Driving Time: 1-1/4 hours one way plus stops.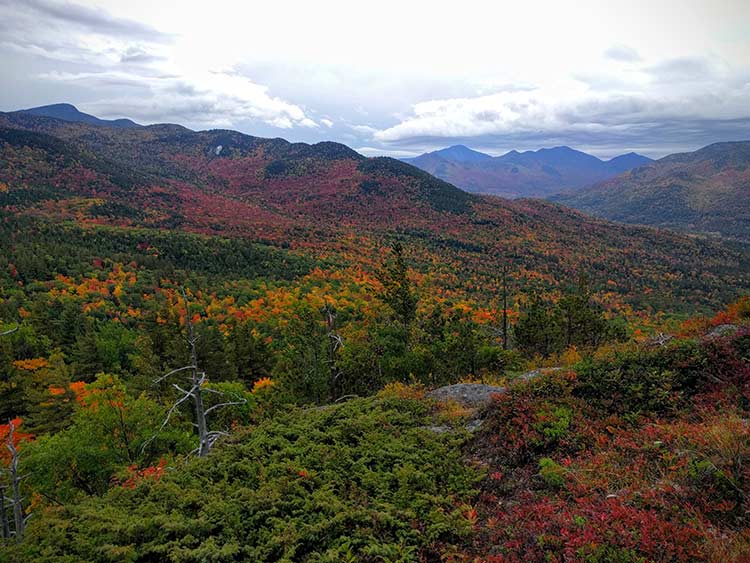 Lake George to Lake Placid
I-87 Exit 30 west on Rt. 73 through Keene Valley and Keene, into the Adirondack High peaks, cutting thru Cascade Pass to Lake Placid.
From Lake Placid, turn north on Rt. 86 to Whiteface Mt. and Wilmington, driving along the West Branch of the Ausable River to High Falls Gorge. View the ancient valley of foaming waters, carved by forces of ice, water, and wind complete with a 600 ft. cascading waterfall.
Open Daily: June - October
Rates: Call 518-946-2278 for hours and fees.
Driving Time: 2 hours one way to Lake
Placid plus stops.
Rt. 9n: Lake George to Hague
I-87 Exit 22 to Rt. 9N north. Drive along Lake George shoreline through Diamond Point and Bolton Landing. Turn right at Bolton Library (Rogers Memorial Park Drive) for spectacular dockside lake scenery. Continue north on Rt. 9N over Tongue Mt. to Silver Bay; stop at the state overlook for another grand view. Continue north to Hague and stop at Town Park.
Driving Time: One hour one way plus stops.
Rt. 9n: Hague to Ft. Ticonderoga Back to Lake George Village
From Hague, continue north up Rt. 9N past Rogers Rock State Park another 12 miles to the roundabout in historic Ticonderoga. On your left you will see The Hancock House, which is the home of the Ticonderoga Historical Society. Continue straight through the circle onto Montcalm St. and through downtown Ticonderoga. This route follows along the La Chute River that once powered paper mills and the famous Ticonderoga Pencil Company on its journey from Lake George to Lake Champlain. Today it is home to a scenic village park. From there follow the signs just a few more miles to Fort Ticonderoga, a fully restored 18th century fort built during the French and Indian War. This National Historic Landmark overlooks Lake Champlain. It is about a 20 minute drive from Hague to Ft. Ticonderoga.
To return to Lake George Village head back toward the town of Ticonderoga as you leave the Fort grounds, but take the first right on Rt. 74/22. Stay on 74 for 17 miles past Eagle Lake and Paradox Lake until Rt. 74 meets I-87 (The Northway). It is approximately a one-hour drive back to Lake George through some of the least developed parts of the Adirondack Park.
From Severance, NY it is an easy 35 minute drive south on the interstate back to Exit 22 at Lake George Village. If you prefer, you can take a more scenic route by traveling south on Rt. 9 instead, along the shore of Schroon Lake to Pottersville before getting onto I-87 or continuing along Rt. 9 to Chestertown.
Rt. 9: Lake George to Chestertown
I-87 Exit 23, north on Rt. 9 through Warrensburg to Chestertown (about 7 miles past junctions of Rts. 9 and 28) There's magnificent forest scenery along the way. Stop in Chestertown to take in the charm of this wonderful small town. At junction of Rt. 8, turn left on Rts. 8/9; stay on rt. 9 around pleasant Loon Lake. Continue on to Pottersville and I-87 Exit 26.
Driving Time: 3/4 hour one way plus stops.
Rt. 8: Brant Lake to Hague
I-87 Exit 25, east on Rt. 8 to Brant Lake. Drive along Brant Lake shoreline. Continue on Rt. 8 through Pharaoh Wilderness Area and Dixon Forest. Beyond the hamlet of Graphite, a short and winding stretch of roadleads to the Village of Hague. Turn right to Town Park and views of Lake George.
Driving Time: 1 hour one way plus stops.