Fall Foliage Driving Tours In Washington County, NY
Every year, visitors from far and wide come to see the gorgeous displays of fall foliage throughout Washington County. With its beautiful country roads, babbling brooks, and - of course - vibrant, autumnal colors, this region is a must for your Upstate New York driving tour. Read on to see some of our favorite drives, from a short, 10-minute excursion to a scenic day trip along the Vermont border.
Route 4: Hudson Falls to Putnam Station
From Hudson Falls, head north on US-4 and NY-22/Moss Street. You'll follow this route for about 35 miles. Farmland and foliage will offer gorgeous gold, red, and orange hues as you drive through Kingsbury, and staying on US-4/George Street in Fort Ann, the Adirondack Mountains can be seen straight ahead. When you reach Comstock, you will be driving right alongside the Adirondack foothills to the left.
NY-22 will take you through Whitehall next. For a fun fall side trip, why not go apple picking? Apple Hill Orchards is a family-owned orchard right near the Vermont border. To get there from US-4/NY-22, turn right to stay on US-4 N/Poultney Street. Follow this road for 4.5 miles before turning right on Old Fair Haven Road. When you're finished, head back the way you came in (driving south on US-4) before continuing onto NY-22 N. You'll pass over South Bay - New York to your left, and Vermont further in the distance to your right. Your drive will hug the New York-Vermont border, taking you through the beautiful forests of Clemons and Dresden. Follow US-4 N and NY-22 to Putnam, taking a right onto Lake Road. In 2.2 miles, take another right onto County Road 3. The road ends in Putnam Station, with a view of Lake Champlain and Vermont just beyond it.
Driving Time: 1 hour and 5 minutes one way plus stop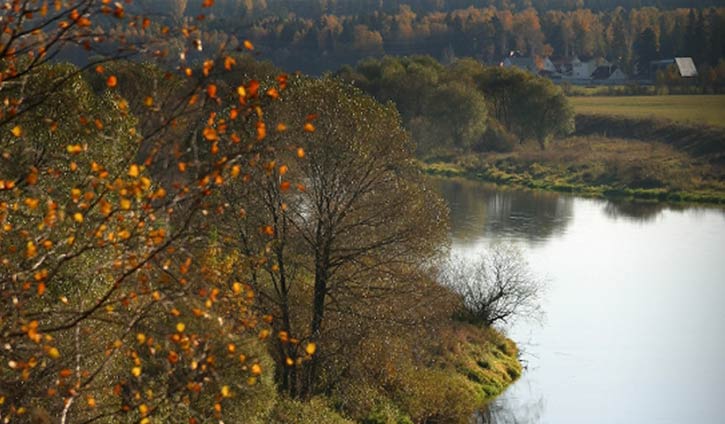 Route 29: Greenwich to East Greenwich
For a shorter drive, start on NY-29 E/Salem Street in Greenwich. You'll follow the winding Battenkill River to your right as you travel through landscapes worthy of a master oil painting, full of brightly colored forests, corn fields, and sprawling purple mountains.
Driving Time: 10 minutes one way
County Road 64: Salem to Eagleville
From Salem, turn onto County Road 64/Shushan Road. In 4.6 miles, take a slight left onto Newman Road, driving for .5 miles. Turn left onto County Road 61, taking you over Steele Brook. In .9 miles, turn right onto Eagleville Road. You'll be driving through Eagleville's beautiful covered bridge, so remember to snap a picture before you cross! If you're up for an autumn hike with incredible views, head south on Eagleville Road toward Binninger Road, and in .5 miles, turn left onto NY-313 E. In .3 miles, the trailhead marker for the Battenkill State Forest will come up on your right.
Driving Time: 18 minutes one way plus stops
Route 30: Argyle to North Granville
From Argyle, take NY-40 N/Sheridan Street for 2.9 miles, then turn right on County Road 45. After 2.7 miles, turn left onto County Route 30, staying on this route for 4.6 miles. Take a slight right onto Rowe Hill Road, then continue on NY-40 N for 7.6 miles. Turn right onto County Road 17, driving through North Granville. You may want to cross over the Mettawee River, which fills with vibrant foliage in the fall. To find the bridge, take your next left onto Truthville Loop, then a left onto County Route 12.
Driving Time: 28 minutes one way plus stop
With all there is to see and do, it's no wonder that Washington County has become a favorite fall destination. Head out for a driving tour and explore this marvelous region yourself!