Take a Scenic Drive in Upstate New York on These 6 Fall Foliage Tours
Upstate New York is known for its gorgeous fall foliage come September and October every year. You can take a scenic drive to enjoy the peak foliage almost anywhere, but the Finger Lakes region in particular is an excellent area to explore the autumn sights.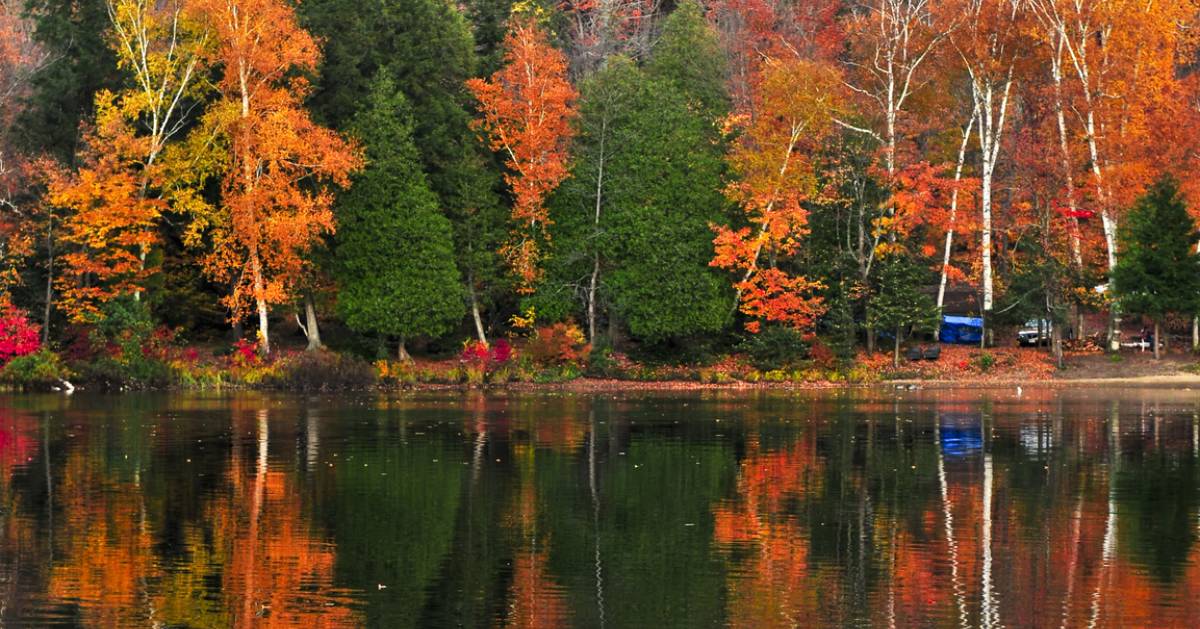 There are 11 long lakes that comprise the New York Finger Lakes. Carved out by glaciers two million years ago, these lakes are some of the longest glacial lakes in the country. This fall, step up your fall foliage viewing a notch by taking in the scenic sights on a drive by these historic lakes - the reflection of the dazzling colors in the water will take your breath away.
Below, we've highlighted six of our favorite fall foliage drives in the Finger Lakes region.
Route 38 South: Owasco Lake
From Auburn, head south on Route 38S/Lake Ave. The 16-mile drive will take you along beautiful Owasco Lake, the smallest of New York's six major Finger Lakes. This route is also nestled between two parks: Auburn's Emerson Park and Moravia's Fillmore Glen State Park. Take a moment before and after your journey to enjoy a colorful autumn stroll.
Driving Time:26 minutes one way plus stops
Route 89 North: Cayuga Lake
From Ithaca, head north on Route 89 for 37.8 miles. The drive follows Cayuga Lake to the right, leading you through the middle of Cayuga Lake State Park in Seneca Falls. Stretch your legs with a relaxing walk along the beach, take the little ones to one of the park's playgrounds, or just have fun exploring under the vibrant canopy of leaves.
Driving Time: 52 minutes one way plus stops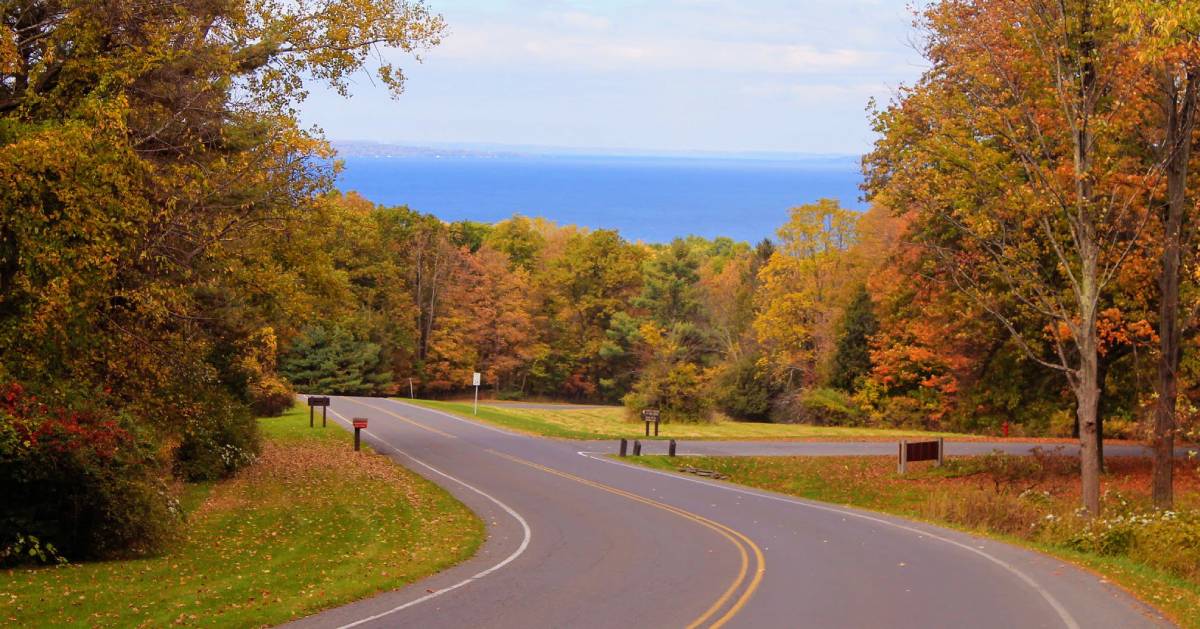 Route 14 South: Seneca Lake
Starting in Geneva, drive south on Route 14 for 35 miles. You'll be following Seneca Lake on your left. On the way to Watkins Glen, make sure to stop at one of the many wineries and vineyards. From Route 14, turn right on Old Corning Road and consider spending some time at Watkins Glen State Park. Discover its incredible waterfalls (the park boasts 12 of them!) and take the gorge trail around Glen Creek.
Driving Time: 30 minutes one way plus stops
Route 54A North: Keuka Lake
From Hammondsport on Keuka Lake's southern tip, head north on Pulteney Street/54A. To drive along the shore, you may follow this route all the way to Keuka's northern tip in Branchport. Plenty of vineyards and breweries are located along the way, however, including Bully Hill Vineyards (from Pulteney Street, take a left onto Greyton H. Taylor Memorial Drive, driving 1.5 miles), Keuka Lake Vineyards (from Pulteney Street, continue onto South Pulteney Road/Country Road 76 for 1.8 miles), and Keuka Brewing Company (from Pulteney Street, continue onto South Pulteney Road/Country Road 76 for 6.4 miles, then turn left onto Briglin Road).
To return to 54A from 76, follow the route north to take a slight right onto Judson Road. From there, merge onto Prattsburg Pulteney Road/Country Road 74. Follow this road for another 1.3 miles before turning right onto Boyd Road (staying on 74). You'll be taking a left onto 54A N/West Lake Road in .6 miles. From there, it's only a short drive to beautiful Keuka Lake State Park! For a leisurely walk or picnic by the lake, follow 54A for 5 miles into Branchport, then take a right to stay on the route. Drive along the northern end of Keuka Lake for 1.3 miles before turning right onto Pepper Road. Vehicle entry fees vary by season. To learn more, call Keuka Lake State Park at (315) 536-3666.
Driving Time: 30 minutes one way plus stops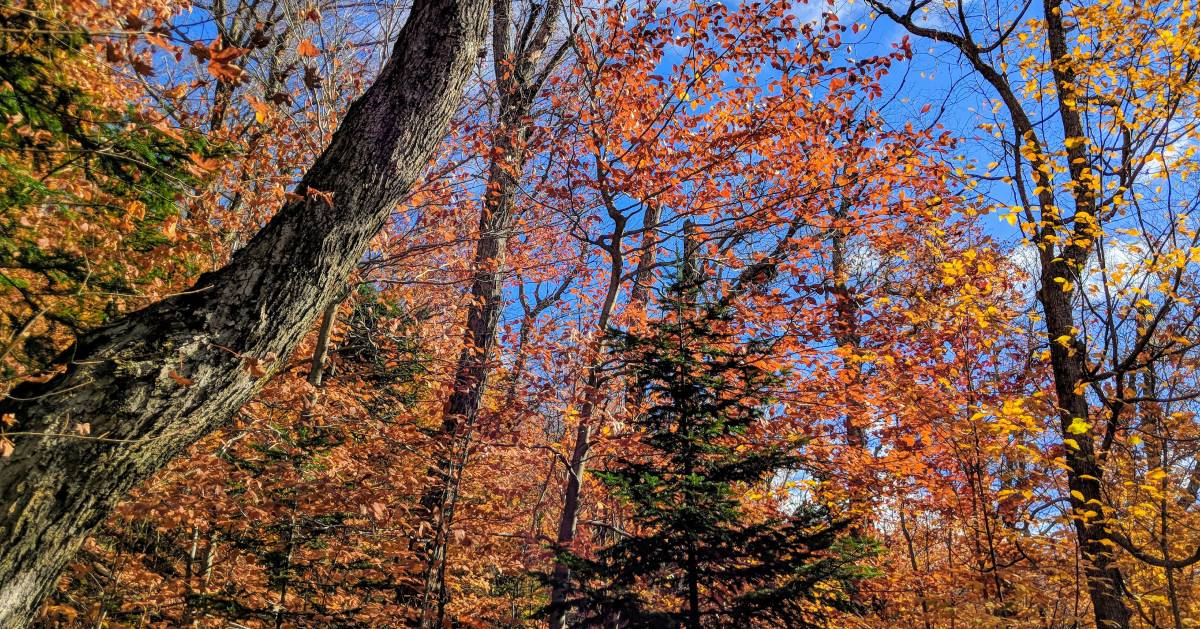 Route 86 West: Corning to Loon Lake
Though not one of the Finger Lakes, Loon Lake in Wayland is a tranquil spot for fishing and camping, and the journey there makes for a gorgeous fall foliage tour! From Corning, the home of the Museum of Glass, take I-86 W/NY-17 W. Follow the winding Cohocton River through colorful hills, forests, and farmland for 33.4 miles before taking exit 2 toward NY-415/Cohocton/Naples. In 3.4 miles, turn left onto NY-962D, then continue straight onto Cohocton Loon Lake Road for 2.8 miles. Take a right onto East Lake Road for an autumn drive along this lovely little lake.
Driving Time: 40 minutes one way plus stops
Route 21 South: Canandaigua Lake
Driving south on Route 21 from the northern end of Canandaigua Lake, head toward Onanda Park. In .6 miles, turn left onto West Lake Road, following it for 2.1 miles. Enjoy the stunning lake view before returning to Route 21, heading south toward the picturesque village of Naples. If you're up for a hike, turn right onto Vine Street to visit Grimes Glen Park. The 1-mile walk to two of Grimes Glen's waterfalls makes the perfect ending to any leaf peeping tour.
Driving Time: 35 minutes one way plus stops
With its fantastic wineries and breweries and beautiful lakeside parks, a drive through the Finger Lakes region is all the more magnificent in the autumn. Can't wait for leaf peeping season? Be sure to plan your trip today!