Zombie Zips at Mountain Ridge Adventure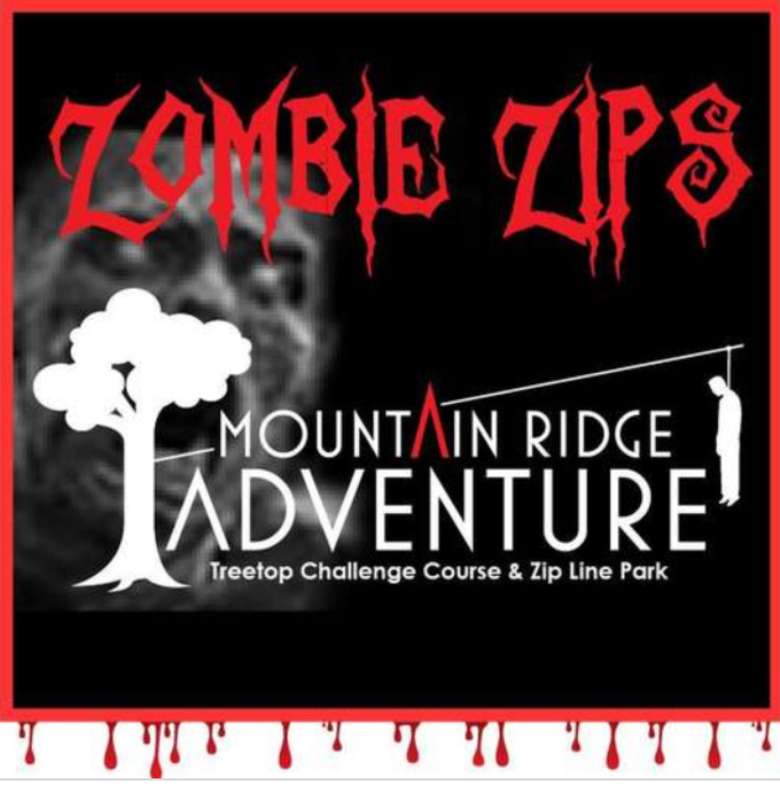 When:
Saturday, Oct 31, 2020
7:00 PM to 10:00 PM
---
This tour is not for faint of heart. Your nightmare begins with a corpse-guided tour along a serial killer infested forest to then be hauled into the trees among complete, utter horror. Once in the trees you will be launched in complete darkness … alone, afraid and vulnerable … along a screaming steel cable hundreds of feet along Mountain Ridge Adventure's awesome Zip Line Park.
The terror occurs every Friday and Saturday night in the month of October from 7 PM-10 PM.
WARNING: This is not for kids or the faint of heart. If you have been to those silly Disney-esque kiddy haunted hayrides and found them even remotely scary then we caution you – Mountain Ridge Adventure's ZOMBIE ZIPS will stop your heart.
Imagine being alone 70+' in the air, in total blackness, not knowing how long the zip line is or when it will end, to then be caught by an evil ZOMBIE as you land in horror. But wait … Mountain Ridge Adventure's zip line park has 10 zip lines. After your first fright flight on zip line #1 you will be begging for mercy but by the time you reach zip line #10 you just may have to change your clothes (diapers available upon request). If you are bored of the typical haunted house, haunted hayride, haunted corn maze or same old Halloween Scary and Spooky Horrors then join us for the most fun you'll ever have during the Halloween Season.
---
Event times and information subject to change and not guaranteed.