The Moody Pond Challenge: Online Auction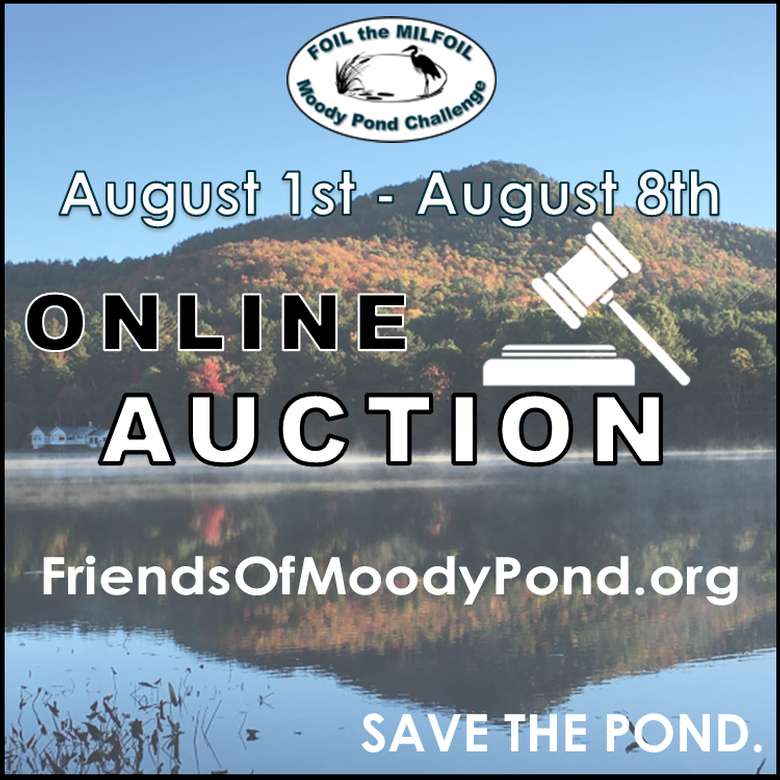 When:
Today until Saturday, Aug 8, 2020
12:01 AM to 2:00 PM
---
Many generous community members and businesses are supporting our cause by donating valuable auction items to 'The Moody Pond Challenge: Online Auction'. With the funds raised, the Friends of Moody Pond will begin the process of contracting divers to remove Eurasian watermilfoil from the pond. We also hope to apply for matching grant funding. The more interest and support we receive from the community, the more success we will have in doing so.
The auction will take place online beginning August 1st, with all bids to be placed online. Items will be on display, and final online bidding will conclude Saturday, August 8th at 'The Moody Pond Challenge: Ice Cream Social' on Moody Pond, at 331 Forest Hill Avenue. Please wear a mask and follow social-distancing guidelines if you attend the Ice Cream Social, and bring your phone to make your final bids and pay by debit, credit or Paypal.
Thank you to:
Our 'Challenge' Sponsors: Stewart's Shops, Carcuzzi Car Care, and Moody Tree Farm
Our 'Ice Cream Social' Sponsors: Stewart's Shops, Donnelly's, and Mountain Mist
The local businesses and individuals that have donated to our 'Online Auction':
Adirondack Lakes & Trails
Coakley's Hardware
Ona Allen
Donna Walsh
Twin D automotive
St. Regis Outfitters
Barry Lobdell
Mark Hudson
Riverside Pet Supplies
Suzanne Lebeda
Cinderella Shop
Craig Woods Golf Course
Just Nails Lake Placid
Eleanor Sweeney
Sandra Hildreth
Rustic Riders
Saranac Waterfront Lodge
Scotts Florist
Wild Center
Maplefields, Raybrook
Aubuchon Hardware
Jay Federman
---
Event times and information subject to change and not guaranteed.