Gallery Exhibit | Stich by Stich: A Gathering of Local Quilting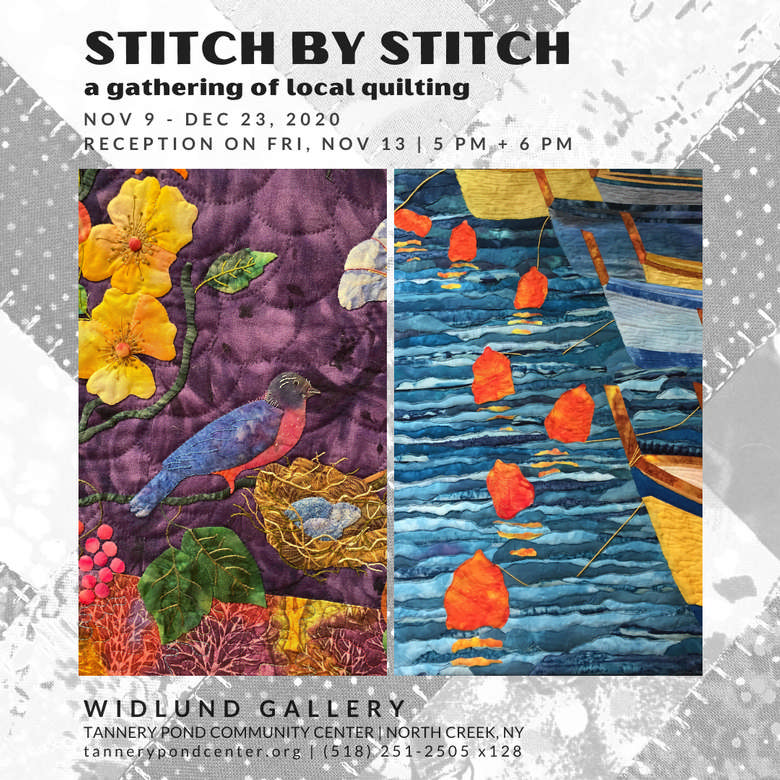 When:
Today until Saturday, Dec 5, 2020
See Below for Dates & Times
---
GALLERY EXHIBIT | Stitch by Stitch: A Gathering of Local Quilting
Nov 9 - Dec 23
RECEPTION: Friday, Nov 13 | 5 PM + 6 PM
Masks required. Measures in place for physical distancing. RESERVATIONS APPRECIATED for one of the reception times listed above – please email (info@tannerypondcenter.org) or call (518) 251-2505 x128.
Artists and craftspeople use many different supplies and materials. Fabric, thread, and other textiles are a quilter's medium. This exhibit, featuring the work of local quilters and textile artists, is a feast for the eyes – color, texture, patterns, and more. We have hidden gems of creative souls in our towns… come enjoy the show!
Featuring the quilted artworks of Sandy Carpenter, Mary Clark, Gail Frenz, Karen Hanley, Joy Healy, Charlotte Hewitt, Ann Hornbeck, Kathleen Maiorana, Kaye Smith, Susan Therio, Alice Vollaro, Donna Trautwein Welch and Linda Zila.
---
Event times and information subject to change and not guaranteed.